Today, let's talk about the world's most creative building designs, each of which is the masterpiece of the world's top designers, let's take a look~
sustainable floating city – Korea
Recently, BIG Architects unveiled its design for a floating city on the coast of Busan, South Korea, which it calls "the world's first sustainable floating city."
The floating city aims to bring technology to coastal cities that can alleviate land shortages and a warming climate. The project can initially cover 60,000 square meters and accommodate 12,000 people. On this basis, it will expand outwards and eventually accommodate 100,000 people at the same time.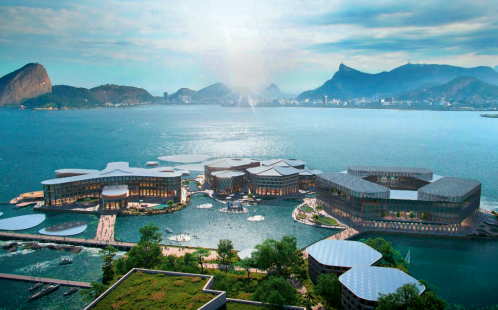 Cement Plant Renovation building- China
Chinese designer Hong Weijian has renovated an abandoned cement factory in Xiamen to create a minimalist and peaceful living and working space.
Hong Weijian retained most of the old building structure, including three tall concrete chimneys. The design is mainly transformed through the control of the original building volume and space, and the control of space openings and natural light. The overall style is sparse and simple, allowing the emotional expression of the building to be the focus.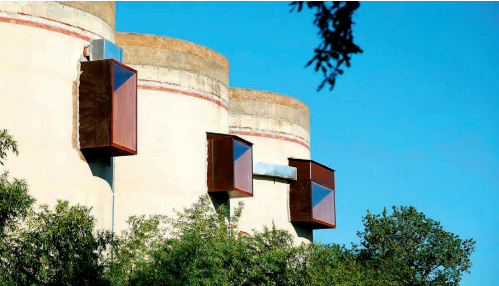 Minimalist Sauna – Sweden
A minimalist black box emerges off the coast of an island in the Stockholm archipelago. This black box is a sauna building designed by Swedish architect Matteo Foresti.
Nestled between two rocky hills and surrounded by soil and low vegetation, the minimalist black sauna appears in a natural and pristine setting like something from space.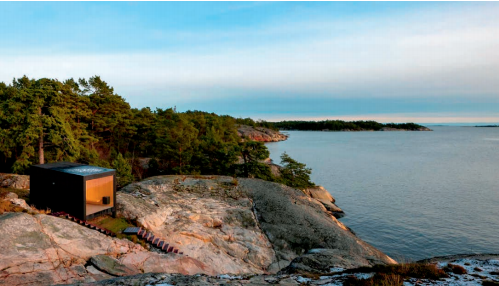 Children's Learning Centre – New Zealand
The Kakapo Creek Children's Learning Centre was built by Colin Ridge and Smith Architects (CASA).
Located in (Mairangi Bay) in Auckland, New Zealand, the children's centre has attracted much attention with its circular green canopy roof.
Through this roof design, the designer echoes the traditional cultural concepts of the local people, and creates four primary school classrooms and an open-air playground here.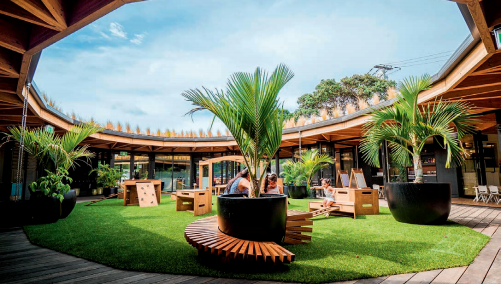 Apollo Villas – Greece
Villa Apollo, designed by Greek architecture studio Block722, sits on a hillside on the southern edge of the Greek island of Lefkada, facing the sea and quietly nestled among greenery.
The building leverages Block722's expertise to blend a contemporary minimalist aesthetic with nature.
The architectural theme is divided into two parts, connected by a series of external spaces, with planting areas, paved patios and water features creating a coherent whole.